Posts for: July, 2015
By Laverne Dental Center
July 23, 2015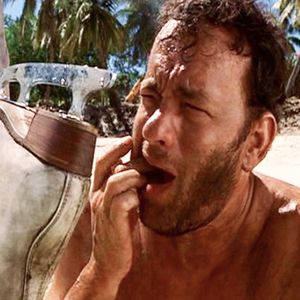 Did you see the move Cast Away starring Tom Hanks? If so, you probably remember the scene where Hanks, stranded on a remote island, knocks out his own abscessed tooth — with an ice skate, no less — to stop the pain. Recently, Dear Doctor TV interviewed Gary Archer, the dental technician who created that special effect and many others.
"They wanted to have an abscess above the tooth with all sorts of gunk and pus and stuff coming out of it," Archer explained. "I met with Tom and I took impressions [of his mouth] and we came up with this wonderful little piece. It just slipped over his own natural teeth." The actor could flick it out with his lower tooth when the time was right during the scene. It ended up looking so real that, as Archer said, "it was not for the easily squeamish!"
That's for sure. But neither is a real abscess, which is an infection that becomes sealed off beneath the gum line. An abscess may result from a trapped piece of food, uncontrolled periodontal (gum) disease, or even an infection deep inside a tooth that has spread to adjacent periodontal tissues. In any case, the condition can cause intense pain due to the pressure that builds up in the pus-filled sac. Prompt treatment is required to relieve the pain, keep the infection from spreading to other areas of the face (or even elsewhere in the body), and prevent tooth loss.
Treatment involves draining the abscess, which usually stops the pain immediately, and then controlling the infection and removing its cause. This may require antibiotics and any of several in-office dental procedures, including gum surgery, a root canal, or a tooth extraction. But if you do have a tooth that can't be saved, we promise we won't remove it with an ice skate!
The best way to prevent an abscess from forming in the first place is to practice conscientious oral hygiene. By brushing your teeth twice each day for two minutes, and flossing at least once a day, you will go a long way towards keeping harmful oral bacteria from thriving in your mouth.
If you have any questions about gum disease or abscesses, please contact us or schedule an appointment for a consultation. You can learn more by reading the Dear Doctor magazine articles "Periodontal (Gum) Abscesses" and "Confusing Tooth Pain."
By Laverne Dental Center
July 08, 2015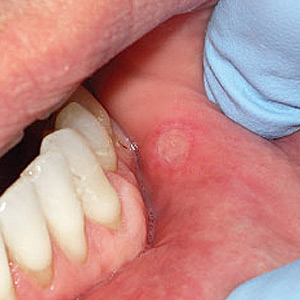 If you occasionally experience small sores in the softer tissues of your mouth, you may have aphthous ulcers or better known as canker sores. While rarely a health concern, they can be painful and annoying particularly when you're eating and drinking.
These breaks in the skin or mucosa (the lining membranes of the mouth) usually occur in the thinner tissues found in the cheeks, lips, under the tongue or in the back of the throat. They tend to be most painful (especially while eating acidic foods like citrus or tomato sauce) between the first few hours of appearing and for a couple of days afterward, and will often occur during periods of anxiety, stress or after a minor injury. The sores will normally heal and fade within a couple of weeks.
Although occasional outbreaks of canker sores are quite common with most people, 20-25% of people (more often women) have a recurring form of painful outbreak known as recurrent aphthous stomatitis (RAS). Another variation called herpetiform aphthae, similar in appearance to herpes simplex virus sores, is characterized by smaller clusters of ulcers. While the specific causes for canker sores are still unclear, there's some correlation between them and abnormalities with a person's immune system, as well as with other systemic conditions like gastrointestinal disorders or vitamin deficiencies.
The basic treatment for canker sores is to first soothe the pain and promote quicker healing. Many over-the-counter medications are available for mild cases that numb the area temporarily and provide a protective covering while the sore heals. For more severe cases, there are also prescription medications (like steroids) that can be applied topically or through injection.
While canker sores are not contagious and usually benign, there are some situations that call for a dental examination: sores that haven't healed within 2 weeks; increasing occurrences and severity of the sores; and never being completely free of a sore in the mouth. These may indicate some other condition, or be an occurrence of cancer or a pre-cancerous condition.
If you have any concerns, be sure to schedule a visit. We'll be glad to evaluate any occurrence of the sores and recommend the best course of treatment to ease the pain and annoyance.
If you would like more information on canker sores or other types of mouth ulcers, please contact us or schedule an appointment for a consultation. You can also learn more about this topic by reading the Dear Doctor magazine article "Mouth Sores."